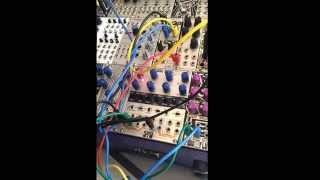 due to popular demand, Snazzy FX has created a module made just for you GUITARISTS!
THE GTR AMP euro Module!
Allowing you to both Control other modules with your guitar (such as triggering an envelope) And use your guitar as a +/-5v signal, effects like Ring Modulation, Triggered Sweeps, Tremolo, and more can all be patched up when you use the GTR AMP module as your guitars input into the system.
Made to complement a row of SNAZZY FX MODULES (the tidal wave and wow and flutter are both perfect for guitar processing!) as well as work with all other euro modules.
The main advantage of the module is the HIGH GAIN it can produce without turning your guitar into TOTAL MUSH, however it does range from clean to nicely over-driven.
taking pre-orders now